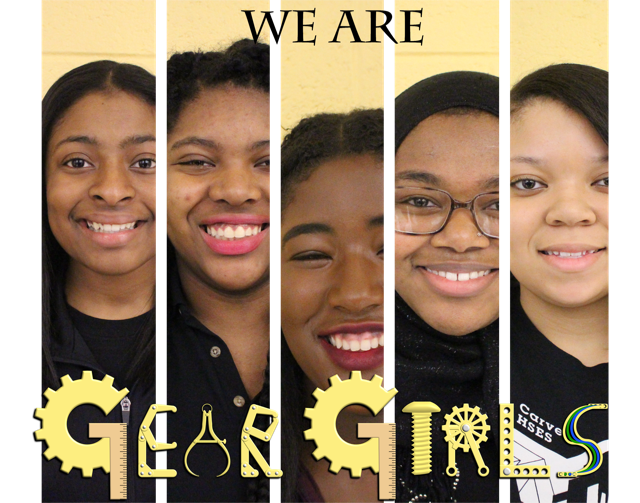 "Science is not a boy's game, it's not a girl's game. It's everyone's game. It's about where we are and where we're going."
–  Nichelle Nichols, former NASA Ambassador
"Gear Girls" is looking to change the narrative of women and minorities in STEM (science, technology, engineering and math). We are exploring the past, present and future on minorities in STEM through the 5 senior Gear Girls, and pioneers in the industry.
"Gear Girls" is for anyone looking to break barriers!
Update! **The Gear Girls just won the first inaugural Sea Glide competition where they created a completely autonomous underwater robot, as well as, overall engineering design. Out of 30 teams, there were the only all minority team participating. They will be presenting their design the the Naval Engineering Conference in May.
We are following an all minority girls robotics team throughout the school year from George Carver High School in Philadelphia. Last year they placed 2nd in regionals (FIRST Robotics), and went to the nationals finals in the Sea Perch (underwater robotics) competition. We are also speaking to established women in STEM (listed below) about their experiences and struggles. Some of them were even able to come and speak to the Gear Girls.
"Gear Girls" will showcase the empowering stories of women and minorities in STEM and the trailblazers whose ambition and dedication drive them. We will examine their journey, their struggles, and discover what makes them successful. We will also learn why there has never been a more exciting and promising time for being a minority in STEM.
Let's redefine what it means to be a woman and minority in STEM. Everyone can be a Gear Girl!
Thanks to the success of the film "Hidden Figures," women and minorities in STEM were thrust into the spotlight. Sixty years after the amazing trio helped land the first man on the moon, their story was told. We don't want to wait another 60 years to tell these young women's stories.
"The Theodore Melfi–directed film about a group of black female mathematicians at NASA has now pulled in more money in the U.S. than any other movie nominated for Best Picture at the Academy Awards, even the monster hit "La La Land." (http://www.huffingtonpost.com)